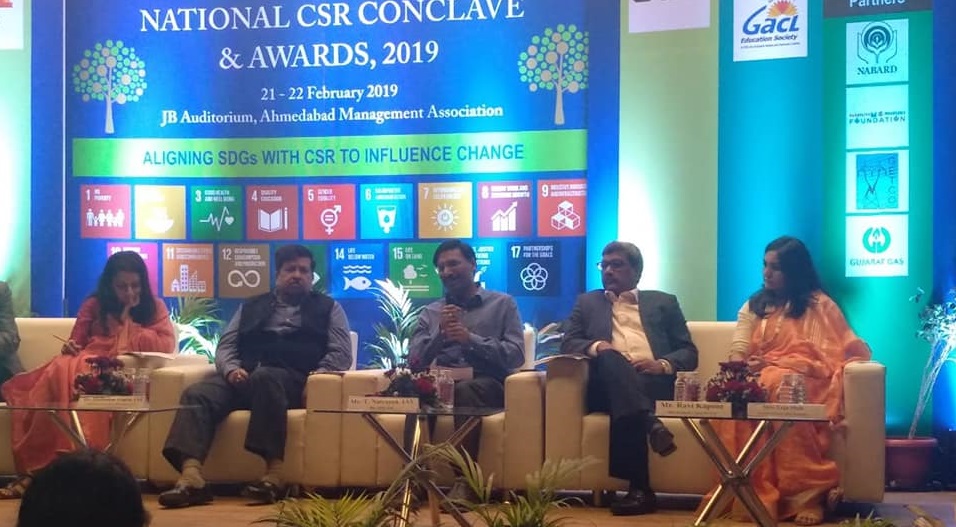 3RD EDITION OF NATIONAL CSR CONCLAVE AWARDS: ALIGNING SDGS WITH CSR TO INFLUENCE CHANGE
GCSRA had organized the third edition of "National CSR Conclave and Awards, 2019: Aligning SDGs with CSR to influence change" at Ahmedabad on 21-22 February, 2019 to discuss the present and future challenges in the CSR landscape faced by the state and outside in presence of the representatives from CSR and related sectors.
Honourable Governor of Gujarat Shri O.P. Kohli gave away the GACL State CSR Awards organised by the Gujarat CSR Authority (GCSRA) in association with Gujarat Alkalies and Chemicals Ltd. to Apollo Tyres Limited, Finar Foundation and Gujarat Pipavav Ports Ltd, in Ahmedabad on Friday.
Apollo Tyres Limited won the award in the 'Sustainable & Impactful CSR' category, under large scale company, by empowering women through creation of self-help groups in Vadodara and facilitating their social empowerment and economic advancement, through farm and non-farm livelihoods support. Finar Foundation won the award for its education programme aimed at holistic development of the students under small and medium scale company in the same category. Gujarat Pipavav Ports Ltd. has won the award in 'Cohesive and Strategic CSR project' for its water management programme.
Gujarat Alkalies and Chemicals Ltd. is the award partner and has been extending their support from the last 2 years. The awards seek to identify and recognize exemplary work of companies in integrating and internalizing CSR.
All the dignitaries also released a Coffee table booklet "Aligning SDGs with CSR to Influence Change" and a "Restroom SOP".
Speaking at the award ceremony, Shri D Thara, IAS and Chief Executive Officer of GCSRA congratulated all the participants and also asked SME sector to participate more in CSR activities.
This year, a total of 36 applications were received for the awards from 31 participating companies.
The conclave was marked by panel discussions on several themes like 'Enabling good health and hygiene amongst the citizens' , 'Educating and skilling a future ready work force for combating poverty' and 'Above and Beyond CSR: CEO speak session on taking Gujarat Ahead'. Apart from the awards given; Grasim Industries, Hazira LNG and Port, Coastal Gujarat Power Limited and Nayara Energy in the large scale and Motif Infotech India Ltd. in Small Medium Scale were given certificates under 'Sustainable & Impactful CSR' and GIPCL under Cohesive and Strategic CSR project'.
The third edition of the Conclave is the one-of-its-kind conclave aims to create an enabling environment for corporate, government agencies, NGOs and civil society members to share their experiences and expectations to address the social challenges faced by the state.
President Ms Urja Shah on was invited as one of panelists with prominent national level speakers in the CEO' forum at the prestigious National CSR conclave in Ahmedabad on 22nd Feb 2019. National conclave had a participation of large number of leaders from various corporate, foundations, NGOs and top bureaucrats participated. Ms Urja was also the jury member for selection of organisational Award for CSR. Her view points on leadership and vision were highly appreciated in this national level forum. She opined that CSR is all about taking a stand of excellence and the best of possible value for each and every stakeholder – customer, employee, shareholder, leadership, community, the country and the earth.
We had shared the booklets among other fellow corporate to spread a info on our activities and plan.
CSR Conclave Themes were following:
Key changes in the CSR Rules.
CSR master class by SMEs
Convergence between CSR and the Sustainable Development Goals 2030: furthering the national development commitments
Breakaway sessions on Sustainable Development Goals
Release of the Annual State of CSR Report, 2019
Presentation of the 3rd edition of the Gujarat State CSR Awards
It was a nice platform to gain knowledge for the effective implementation of CSR projects and to develop a network with industry experts and other stakeholders about the CSR regime in the state.
SETCO Foundation has been in the committed for implementation of promotional and developmental projects in collaboration with partners like GCSRA. These include project for improving the utilization of all government schemes.
SETCO Foundation works in the areas of Healthcare, Education, Sustainable Environment and opportunities for growth through its innovative approaches.
List of Participants from SETCO Foundation:
Urja Shah- President, SETCO Foundation
Sandeep Kumar- COO, SETCO Foundation
Ambadas Adhav- Senior Manager, Public Health