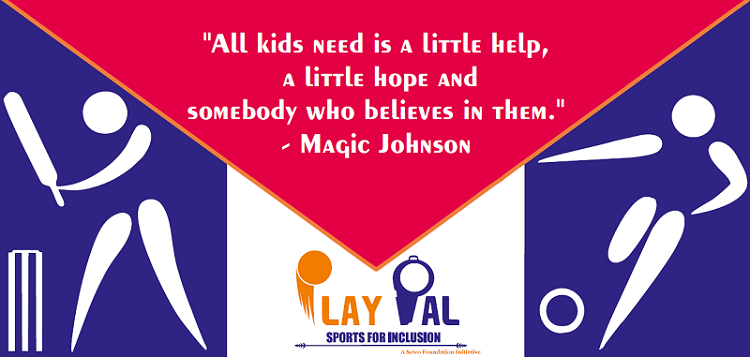 What is the PlayPal Program?
The PlayPal mission is to harness the potential of children with special needs by building a cadre of sensitive, empathic and motivated sports and movement teachers who can facilitate play and movement based activity and learning in a supportive and joyful learning environment.
Why?
Physical play, sports and movement arts have powerful positive effects in all children and adolescents. It not only builds on strength and endurance but it also greatly improves the motor skills. Children learn to form friendships and hence are more confident. Sports and movement activities also helps kids to develop and express creativity while improving cognition and their social skills. It is also known to improve memory and attention.
Participation in physical activities is particularly important for children facing developmental and learning challenges as they learn to become more competent in facing day to day challenges. If children with special needs do not participate in physical activity, research suggests that they suffer from lower levels of cardio-respiratory fitness, lower muscular endurance and higher degrees of obesity than typical children. This gap widens as the children grow up to be adults.
Additionally, such physical participation greatly enhances the impact of therapeutic and augmented intervention such as occupational therapy, physical therapy and special education services. Unfortunately children with special needs, who most need to participate in sports and play, face the greatest hurdles because trainers, teachers and coaches,
– fail to recognize their children's strengths
– there is a lack awareness of the various challenges and difficulties
– do not have the skill sets to help the children work with their strengths and challenges in a positive and supportive manner
– are unable to facilitate an environment that is motivating and inclusive of their students.
PLAY PAL : CERTIFICATION IN SPORTS AND MOVEMENT FOR INCLUSION
Would you like to be a great coach? Join the "Play Pal Program" to build the skills to teach children with special needs sports and movement based activities in a fun, motivating and inclusive manner. #BeTheChange
ABOUT THE PROGRAMME:
This is a 150 hour course spread part-time over 6 months. The program includes theory, clinical apprenticeship and mentorship under highly-qualied faculty with overseas training experience. At the end of this course, you will be able to identify and engage children needing additional support and use strength-based strategies to enable motor development and sports learning. Thus, you will have created an environment for inclusion and learning.
PLAY PAL 2017
Eligibility: Minimum 12th Standard Pass with experience in sports or other movement based activities such as dance or yoga.
For the application form and more details Click to Download
For additional information please contact:
Tel: +91 22 407 55578 or write to us at playpal@setcofoundation.org
SETCO Foundation Head Ofce
c/o SETCO Automotive Limited,
2/A Ground Floor, Film Center Building
68, Tardeo Road, Tardeo,
Mumbai – 400 034